The mayor of Jackson, Mississippi, is urging locals to "get out now" after the state was ravaged by record rains and the Pearl River swelled to devastating levels.
"If you are able to get out now, get out now," Mayor Chokwe Antar Lumumba said at a news conference Saturday morning.
He said it is possible that 100 to 150 homes could be affected by flooding from the Pearl River and warned locals to move to higher elevations or seek shelters in the city.
"Get outside as soon as possible to avoid any incident or challenge with people trying to leave the area at once or any concerns about whether the river is earlier than expected or our projection," he added.
Mississippi Gov. Tate Reeves stated a state of emergency saturday in anticipation of the flooding of the Pearl River. It was forecast for Monday morning at 35.5 feet7 feet above the flood stage, the National Weather Service office in Jackson said.
Monday at 9 a.m., the weather service said the river is expected to "stay stable" at nearly 35.37 feet, just below the level of the major flood stage of 36 feet, and then slowly decline toward evening.
The state has deployed 126,000 sandbags and search and rescue teams are standing by to respond to requests from local emergency managers. Drones are also in the air to assess the water levels along the Pearl River.
Mississippi has been struggling with flash floods since Aug. 22. So far, 42 homes, nine businesses, five ranches and 43 public roads have been reported damaged, the Mississippi Emergency Management Agency said in its initial assessment.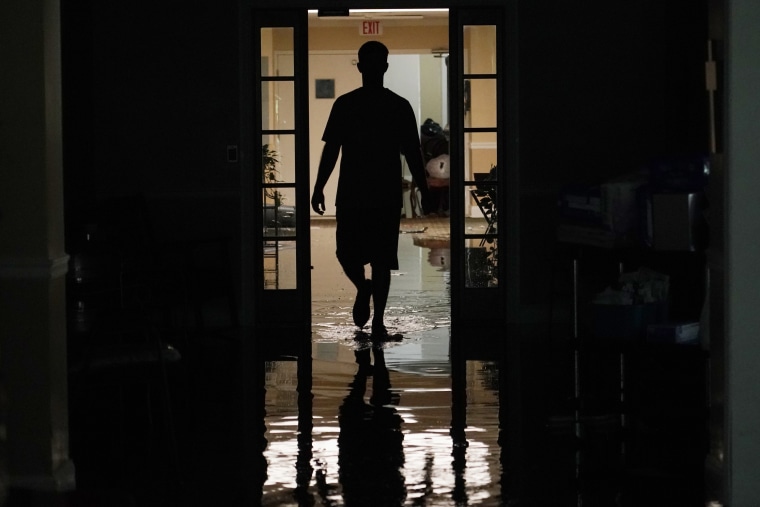 Some areas received 14 inches of rain in the span of 72 hours as the state saw record rains, the agency said. A person in Wilkinson County was injured in the storm, but the flooding is far from over.
Rain moving through the Jackson area may be Monday, further affecting the already saturated soil.
Erin McGarry contributed.