Tunisia won questions on the second run, but it was still not enough to send them through. This was the most vicious yet most honorable exit and they will wonder how, after building on a creditable draw with Denmark by beating a second-tier team from France, they will not make their knockout debut. The answer lies in the defeat between the two, an unexpected hiccup against Australia that ultimately meant they and their vociferous contingent of supporters had to go home.
For a few joyous minutes into the second half, they thought history was in the making. Wahbi Khazri had just scored the goal they deserved, the culmination of a brutal personal performance after slaloming through a deformed and stupid group of French stand-ins, and the noise from three-quarters of the crowd had turned feverish. They would have been home and dry as things stood, but then Mathew Leckie engineered an unexpected winner against the Danes, who failed to deliver the turnaround Tunisia relied on.
At least they deserved the points and beat France for the first time since 1971, although they would also have been denied them had VAR not intervened in an extraordinary final. Didier Deschamps had nine of his starting eleven rested and his team only fizzled after the introductions of Kylian Mbappé, Antoine Griezmann and Ousmane Dembele.
When Griezmann converted a flashy volley with what appeared to be the final play, the referee, Matthew Conger, blazing full-time seconds later, the value of finishers being able to fix a mess seemed clear. But VAR still checked the goal and, after watching it on his screen, Conger disallowed it for offside. The players had to repeat the closing moments and this time Tunisia could celebrate, albeit with a sour taste.
"It's our fault because we didn't do what was necessary in the first two games," Khazri said of their departure. "We have mixed feelings. We are happy to have beaten France and we leave with our heads held high, but it is still bitter because it would have been nice to reach the round of 16."
Khazri was just about modest enough to avoid pointing out that he didn't start those earlier games. This time he was involved from the start and found himself at the heart of it all, often twisting the simple and accomplishing the improbable. He's always been such a player, but moments like the run and cool finish past Steve Mandanda facilitated by the excellent Ellyes Skhiri's robbery of Youssouf Fofana make the inconsistency worth it.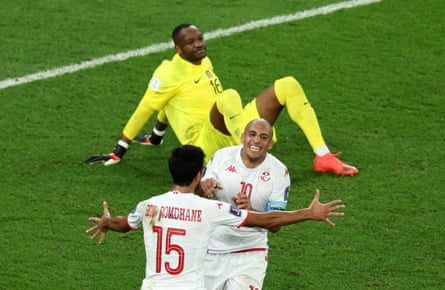 France contributed little until the cavalry showed up, but for Deschamps this was simply an exercise in drafting a position that could give his star turns a rest. Eduardo Camavinga was brought in at left back and Matteo Guendouzi squeezed in for him in a tricky role; Axel Disasi was uncomfortable on the right side of defense while an attack from Kingsley Coman and Randal Kolo never convinced Muani. Potential future opponents, including England, could notice the lack of depth their injuries have created.
Deschamps' plan is for France to thrive on new legs when things get serious on Sunday. "I think we'll see the benefit in four days," he said. "We can't tick all the boxes. We came from two intense games and need to breathe fresh air. But we have to do better than we did, our opponent punished us and gave us a run for our money.
Tunisia certainly did, bombarding France from both flanks during the first half and seeing an early attempt by Nader Ghandri disallowed. A poor cross from Khazri, one of the side's six French-born members to start, created the chance; the former Sunderland striker later forced Mandanda, who also held a deflected header from Anis Ben Slimane, to parry half a volley from range.
The 37-year-old Mandanda was on the pitch in 2008 when France hosted Tunisia in Paris in an atmosphere so hostile that Nicolas Sarkozy, then president, requested that they stop playing their former North African colonies on home soil. A rematch took place in Rades two years later, but France had not faced Tunisia, Algeria or Morocco since then.
Outsmarting them this time allowed Tunisia manager Jalel Kadri to plead for his job to be kept. "I don't know why you insist that I resign," he told a journalist who asked if he would resign. "My contract is based on objectives. The goal has not been reached, but we have time to make the final decision and it is up to the Tunisian Federation to decide whether I have reached the goals or not."
Deschamps met his first by ensuring that France is at the top of the group with their price assets largely wrapped in cotton wool. "Now a second game is starting," he said, and the impact of his rotation here will soon be understood.