Tunisians will go to the polls again on Saturday, on the day 11 years since a salesman's self-immolation led to the fall of their ruling tyrant and sparked a wave of popular uprisings across North Africa and the Middle East.
In the troubled decade since then, other regional states that once succumbed to the pressure of popular uprisings have increasingly been smothered by counter-revolutions that have reclaimed civic gains and political freedoms defended by their citizens.
While Tunisia was the only country to emerge from the Arab Spring protests with a democratic government, it is feared that Saturday's elections will cover the dalliance with democracy and reinforce the return of strong rule.
The current president, Kais Saied, who ousted Tunisia's ruling government last July and has since revised the constitution to give himself largely unrestricted powers, is expected to preside over a new legislature with few auspices and weakened political parties.
That the election falls on the birthday of Mohamed Bouazizi who set himself on fire to protest his treatment by the authorities is highly symbolic and closes the curtain on an era that came to be known as the Arab Spring – on the spot where it all started.
Opposition groups and major political parties have said they will boycott the vote, calling it undemocratic and a fig leaf of legitimacy for a power grab that would shatter hard-won freedoms.
Nejib Chebbi, head of an anti-Saied coalition that includes the Islamist Ennahda party, said the elections, which are taking place amid an economic crisis fueling poverty, amounted to a "stillborn farce".
However, Saied says a constitutional reform referendum in July provided a mandate to push through the changes and claims Tunisians are seeking political certainty after a decade of floundering and often crumbling democracy.
"Tunisia is the latest domino to fall in the region," said Hamish Kinnear, Middle East and North Africa analyst at risk intelligence firm Verisk Maplecroft. "However, looking ahead, nothing is inevitable. Saied may be dominant now, but could face stiff domestic opposition to his plans to implement structural economic reforms."
For now, however, those backing Tunisia's new strongman seem to be attracted by the security he offers.
"What popularized Saied and strengthened his presidential powers is that Tunisians lost patience with their elected leaders as they watched nine successive governments make big promises in a decade and consistently falter, especially on the economic front," said Prof. Safwan Masri , dean of Georgetown University in Qatar and author of Tunisia: An Arab Anomaly. "But the economic situation has not improved under Saied and his always superficial popularity is waning."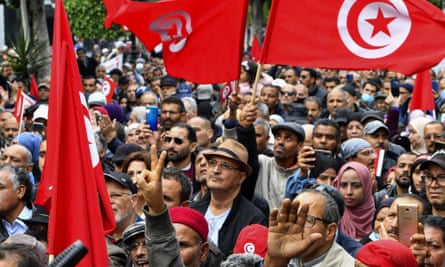 In nearby Egypt, whose leadership supported Saied to power, a revolution sparked by the ouster of Tunisian Zine Abidine Ben Ali in 2011 has long since returned to the kind of oppressive state rule that marked the era of its long-reigning tyrant, Hosni Mubarak. . While Egypt's revolutionaries were among the loudest and largest in the region, their quest to forge a political ecosystem in which citizens determined their fate was largely overrun by a resurgent police state that seized on the shortcomings of Mohamed Morsi's short-lived government, which was forced from office and jailed in 2013.
"Forging democracy from the rubble of authoritarian states is a mammoth task," Kinnear warned. "Hosni Mubarak may have been overthrown during a popular revolution and replaced by an elected leader, but other parts of the old regime – such as the army – remained intact and later helped to restore authoritarian rule. Democracy remains fragile, even once established."
Masri said the jury was unsure whether Tunisia could still succeed in its democratic experiment. "The social foundation of democratic Tunisia – its strong civil society and labor movement, its commitment to women's rights and the visible role women play in public life – cannot be overlooked. As tempting as it is to view all countries in the region through the same prism, it can be quite misleading. The situation is very different from, for example, Egypt, where the army and the labor movement have opposing forces compared to Tunisia."
HA Hellyer, a nonresident scholar at the Carnegie Endowment for International Peace, said the election would not necessarily mark the end of an era. "The post-2011 era has seen revolution and counter-revolution, but certainly not a final chapter. What we see are cycles that continue to unfold, in which populations push to push and then back off, and status quo systems try to make it through. Kais Saied is another note in the story in that regard, but I don't think he's crystallized anything yet.